RICARD GIRALT MIRACLE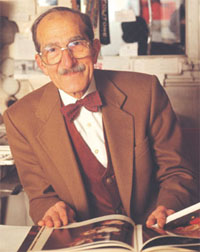 Barcelona, 1911 - 1994

Fonts released by Neufville Digital: Gaudí

Graphic designer, typographer and printer, from the thirties on he devoted his talents to the design of posters, leaflets, book covers and bibliophile editions, and is regarded as one of the pioneers of graphic design in Spain.
In 1947 he founded Filograf, Institut d'Art Gràfic, where he combined tradition and innovation to create trademarks, "plaquettes", kaleidoscopes, etc., as well as typefaces. In addition to the Gaudí, he also designed the Xenius, Helios, Gaya Ciencia, Biblos, Pompeya and Maryland typefaces.

Among other awards he received the ADIFAD Delta d'Or (1962), the Premi Ciutat de Barcelona (1983), the ICOGRADA Graphic Design Excellence Award (1989) and the Spanish Premio Nacional de Diseño (1991).

Ricard Giralt Miracle's relationship with letters and typefaces goes back to his childhood. His father, Francesc Giralt Ill, a noted lithographer, taught him to draw the different families of typefaces, particularly those of the Roman, English and Egyptian traditions, to which he subsequently added sans serif founts. His mastery of the anatomy and architecture of the letter enabled him not only to apply the classic founts with rigour and grace, but also to design new founts with a structural and aesthetic personality of their own.

For him, letters were almost living things; it is significant that he defined typography as an occidental ikebana. He studied the thickness of the stems, the serifs, the fills and counters, the spaces between words and lines, in order to endow each fount with its own characteristic physiognomy.

Of the many typefaces he created, the most widely used and highly acclaimed is the Gaudí, for which he was awarded a Delta d'Or by the ADIFAD; this combines the compositional spirit of Roman-lapidary inscriptions with that of modern sans serif typefaces. The orthogonal angles of the serifs establish a recurring rhythm and give uniformity to the capitals of this fount.



---
RICARD GIRALT MIRACLE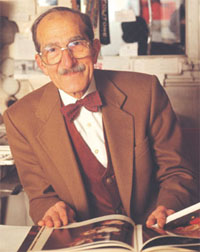 Barcelona, 1911 - 1994

Diseñador gráfico, tipógrafo e impresor. Desde los años treinta se dedicó a la creación de carteles, folletos, cubiertas de libros y ediciones de bibliófilo. Está considerado como un pionero del diseño gráfico en España.
En 1947 fundó Filograf, Institut d'Art Gràfic desde donde, compaginando tradición e innovación, realizó marcas, plaquetas, calidoscopios, etc., además de alfabetos. Junto con el Gaudí, también diseñó los caracteres Xenius, Helios, Gaya Ciencia, Biblos, Pompeya y Maryland.

Entre otros premios recibió el Delta d'Or del ADIFAD (1962), el Premi Ciutat de Barcelona (1983), el Graphic Design Excellence Award del ICOGRADA (1989) y el Premio Nacional de Diseño (1991).

La relación de Ricard Giralt Miracle con la letra se remonta a su infancia. Su padre, Francesc Giralt Ill, notable grabador litógrafo, le inició en el dibujo de todas las familias tipográficas, particularmente las de tradición romana, inglesa y egipcia, a las que incorporó después las de palo seco. El dominio que llegó a tener de la anatomía y la arquitectura de la letra le permitió no sólo aplicar con rigor los alfabetos clásicos, sino dibujar otros nuevos que, estructural o estéticamente, tuvieran personalidad propia.

Para él, la letra tenía vida propia, no en balde definió la tipografía como un ikebana occidental. Estudiaba el grosor de las astas, los remates, las partes llenas o vacías, los espacios y las interlíneas, con el objetivo de dar una fisonomía característica a cada alfabeto.

De todos los que creó, el que ha obtenido más reconocimiento y difusión es el Gaudí, premiado con un Delta d'Or del ADIFAD, que combina el espíritu constructivo de la romana lapidaria y el de los palos secos modernos. La ortogonalidad de los remates constituye un ritmo recurrente y dota de uniformidad las mayúsculas de este tipo.




RICARD GIRALT MIRACLE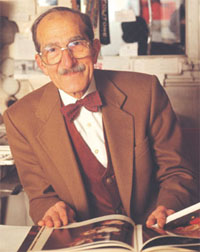 Barcelone, 1911 - 1994

Designer graphique, typographe et imprimeur. Depuis les années trente, il se consacre à la création d'affiches, de brochures, de couvertures de livres et d'éditions pour bibliophiles. On le considère comme un pionnier du design graphique en Espagne.
En 1947, il fonde Filograf, Institut d'Art Gràfic où, en alliant la tradition et l'innovation, il réalise des marques, des plaquettes, des kaléidoscopes, etc. et des alphabets. Outre le Gaudí, il conçoit également les caractères Xenius, Helios, Gaya Ciencia, Biblos, Pompeya et Maryland.

Entre autres prix, il reçut le Delta d'Or de l'ADIFAD (1962), le prix Ciutat de Barcelona (1983), le Graphic Design Excellence Award de l'ICOGRADA (1989) et le Premio Nacional de Diseño (1991).

La relation de Ricard Giralt Miracle avec les lettres remonte à sa tendre enfance. Son père, Francesc Giralt Ill, un graveur lithographe reconnu, lui apprit à dessiner toutes les familles typographiques, en particulier celles de tradition romaine, anglaise et égyptienne auxquelles il ajouta par la suite les lettres sans-sérifs. Sa maîtrise de l'anatomie et de l'architecture des lettres lui permit non seulement d'appliquer avec rigueur les alphabets classiques mais aussi d'en dessiner de nouveaux qui possédaient leur propre structure ou esthétique.

Pour lui, la lettre avait sa propre vie, c'est pour cela qu'il définit la typographie comme un ikebana occidental. Il étudiait la grosseur des pleins, les empattements, les pleins et les déliés, les espaces et les interlignes afin de donner à chaque alphabet sa propre physionomie.

Parmi ceux qu'il a créés, le plus reconnu et diffusé est le Gaudí, qui reçut le prix Delta d'Or de l'ADIFAD et qui conjugue l'esprit constructif de la romaine lapidaire et les lettres sans-sérifs modernes. L'orthogonalité des empattements crée un rythme constant et confère une uniformité aux majuscules de ce genre.


RICARD GIRALT MIRACLE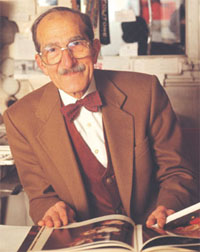 Barcelona, 1911 - 1994

Graphiker, Typograph und Drucker. Seit den 30er Jahren widmet er sich dem Design von Plakaten, Broschüren, Bucheinbänden und bibliophilen Ausgaben.
Als einer der Pioniere des graphischen Designs in Spanien, gründet er 1947 Filograf, Institut d'Art Gràfic und schafft Logotypen, Plaketten, Kaleidoskope und Alphabete, immer wieder Tradition und Neues vereinend. Außer dem Alphabet Gaudí kreiert er auch die Zeichen Xenius, Helios, Gaya Ciencia, Biblos, Pompeya und Maryland.

Unter den Preisen, die ihm verliehen wurden, sind der Delta d'Or des ADIFAD (1962), der Premi Ciutat de Barcelona (Preis der Stadt Barcelona, 1983), der Graphic Design Excellence Award des ICOGRADA (1989) und der Premio Nacional de Diseño (Staatliche Designpreis 1991) zu nennen.

Die Beziehung von Ricard Giralt Miracle zu den Schriften entwickelte sich in seiner Kindheit. Sein Vater, Francesc Giralt Ill, ein bekannter Lithograph, lehrte ihn die Form aller typographischen Familien, vor allem aber jene römischer, englischer und ägyptischer Herkunft, denen er später die serifenlose hinzufügte. Aufgrund seiner tiefen Kenntnis der Anatomie und Struktur der Schriften ging er über die rigorose Anwendung der klassischen Alphabete hinaus bis hin zum Erschaffen neuer Schriftarten, die strukturell oder ästhetisch eine eigene Persönlichkeit aufwiesen.

Jede Schriftart hatte für ihn ein Eigenleben, so daß er die Typographie als abendländisches Ikebana bezeichnete. Er studierte aufmerksam die Dicke der Abstriche, die Serifen, die gefüllten Teile und die Weißräume, die Abstände zwischen den Zeichen und den Zeilen, so daß er jedem Alphabet eine eigene Physiognomie verleihen konnte.

Unter denen, die er schuf, ist Gaudí das anerkannteste und verbreitetste. Mit dem Delta d'Or des ADIFAD ausgezeichnet, vereint es den konstruktiven Geist der klassischen römischen Lapidar-Schrift mit der Modernität der serifenlosen Schriftarten. Der orthogonale Charakter der Serifen bildet einen sich wiederholenden Rhythmus und verleiht den Großbuchstaben des Alphabets ihre Einheit.


RICARD GIRALT MIRACLE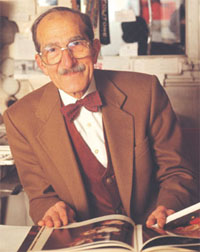 Barcelona, 1911 - 1994

Dibuixant, dissenyador gràfic i tipògraf. Des dels anys trenta es va dedicar a la creació de cartells, cobertes de llibre i edicions de bibliòfil. Impulsà el trànsit entre el darrer noucentisme i el disseny gràfic contemporani.
El 1947 fundà Filograf, Institut d'Art Gràfic des del qual, compaginant tradició i innovació, realitzà marques, plaquetes, calidoscopis, etc., a més d'alfabets. Juntament amb el Gaudí, també va dissenyar els caràcters Xenius, Helios, Gaya Ciencia, Biblos, Pompeya i Maryland.

Entre d'altres premis va rebre el Delta d'Or de l'ADIFAD (1962), el Premi Ciutat de Barcelona (1983), el Graphic Design Excellence Awards de l'ICOGRADA (1989) i el Premio Nacional de Diseño (1991).

La relació de Ricard Giralt Miracle amb la lletra es remunta a la seva infantesa. El seu pare, Francesc Giralt Ill, notable gravador litògraf, l'inicià en el dibuix de totes les famílies tipogràfiques, particularment les de tradició romana, anglesa i egípcia, a les quals incorporà després les de pal sec. El domini que arribà a tenir de l'anatomia i l'arquitectura de la lletra li va permetre no solament aplicar amb rigor els alfabets clàssics, sinó també dibuixar-ne uns de nous que, estructuralment o estèticament, tinguessin personalitat pròpia.

Per a ell, la lletra tenia vida pròpia, no endebades va definir la tipografia com un ikebana occidental. Estudiava els gruixos, els acabaments, les parts plenes o buides, els espais i les interlínies, mirant de donar un tret propi a cada alfabet.

D'entre els que va crear, el que ha tingut més reconeixement i difusió és el Gaudí, premiat amb un Delta d'Or de l'ADIFAD, que conjumina l'esperit constructiu de la romana lapidària i dels pals secs moderns. L'ortogonalitat dels trets terminals constitueix un ritme recurrent i dota d'uniformitat les majúscules d'aquest caràcter.



RICARD GIRALT MIRACLE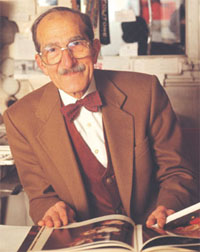 Barcelona, 1911 - 1994